INTERVIEW: All-American Rejects on Cinematic 'Sweat' Video & Upcoming Album
The All-American Rejects have finally returned with some new music with two new songs, "Sweat" and "Close Your Eyes." Plus, the band has a new album on the way -- their first since 2012's Kids in the Street. But the band didn't just deliver two new songs for fans, they dropped one cinematic visual to go along with them.
The choreography-filled "Sweat" music video follows a sex worker named Betsy (played by AAR lead singer Tyson Ritter), who then transforms into wealthy business man Robert for "Close Your Eyes." Tyson has been acting over the last five years, and the 11-minute video showcases Ritter's acting skills in a way fans have never seen before.
We caught up with The All-American Rejects during an exclusive interview, and learned a lot about what it was like to film the video, for Tyson to play these two very different characters, as well as got some insight into the band's forthcoming fifth studio album and what fans can expect. Read on below.
Where did the concept for the "Sweat" music video come from?
Tyson: "Jamie Thraves is this incredible film director that was sort of curated by this incredible, our creative director that we got for this record. And he did this music video that we all love for Radiohead called "Just," and he also did the Coldplay "Scientist" video, and a couple of independent features. He submitted a treatment, and I think what we all kind of remember about any of our best treatments have always been one sentence. When Marcos Siega did 'Dirty Little Secret,' he sent us a link to PostSecret.com. A lot of our great ones have been just kind of one sentence treatments. And Jamie just submitted one that said, 'I quite see Ty being a woman.' And I was like, 'Yeah, I want to do that.' And throughout this three week [period] of correspondence via mail, we just wrote footlong emails about the backstory of Betsy and Robert, and this ridiculous storyline about -- It kind of questions identity but it also is fun, and it's an escape. But the end result was something that nothing but good will put together. We had a beer budget and we ended up getting some champagne."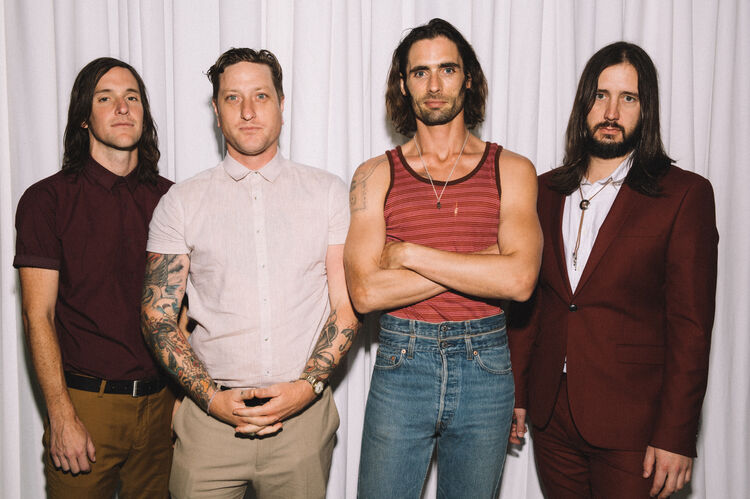 Tyson, what was it like to portray these two characters, Betsy and Robert?
Tyson: "Betsy was fantastic for me. I think we all have the balance within us of femininity and masculinity, and every morning I had to wake up, got completely naked, and put on 6-inch stiletto heels and made my oatmeal and walked around, and found my walk and found my demeanor of Betsy. It was like exploring a character. It was really fun. And with Robert, it was a lot of personal sense memory I just put into him, as sort of with a guy who is fighting himself through his own ... I think Robert's greatest enemy was himself. Just a very, very tightly-wound person that just felt like structure was something that his veneer of life was needing, and Betsy was the escape of that structure."
What was it like learning how to walk and dance in those heels?!
Tyson: "The dancing was the hardest part! We had Michael Rooney, who did the Björk 'Oh So Quiet' video, and he's this incredible, incredible personality. And really, Betsy came alive in the rehearsal studio when we were dancing. We were doing 8-hour days, and I had the tallest heels of everyone. All these fantastic dancers are in there rocking 3-inch heels and I'm like, 'B*tch, I got 6-inch platforms on and you guys are expecting me to do like...' I've never put my body through anything like that in my life. And it was incredible, and everybody was so supportive. The dance number was probably my favorite part about it. It was just rock and roll. It's a glam video that, we're not sensationalizing ... It's funny I've read a couple things where people are like, 'This video might be pushing some sort of transphobia or a misrepresentation of sex workers.' This is a fantasy. This is an escape in a movie, and that's what this is. It doesn't need to be digested as something that's social commentary. It's a fun escape, and I hate that we all can't just escape sometimes. But this is a video that lets you know that that's what it is."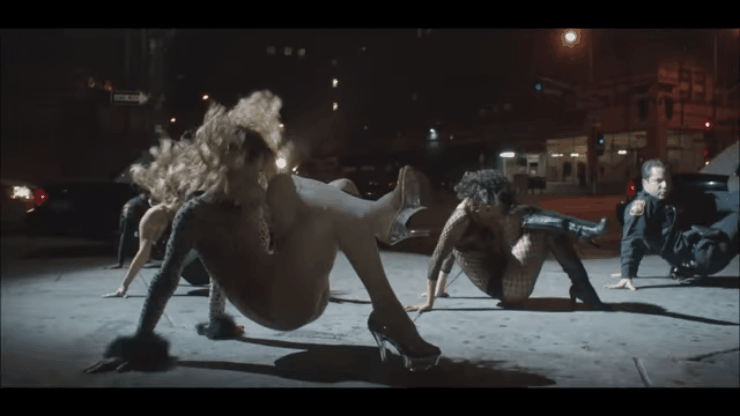 What are some facts about this video that fans might not know?
Tyson: "We shot it in Skid Row from 2am to 6am, and there were actually real sex workers working as we were out there. And these dancers that were out there with me suffering through the night cold and all of the cat calling. Which it's funny, in putting on Betsy, I was treated differently. I was treated like I kinda know a little bit what it feels like to be objectified, in a completely different way, and it was kind of dehumanizing. And it really made me have a lot of respect for not only the dancers that I worked with, who were getting the same sort of just ridiculous harassment, but I think it just made me sort of respect women in a completely different way. Which I think is kind of a beautiful result."
Since Tyson mentioned the choreography and dancing as his favorite part, what are your guys' favorite part of the "Sweat" music video?
Chris Gaylor: "The dance was pretty awesome."
Mike Kennerty: "I mean just all of why he threw himself into it is pretty amazing. He's been doing acting for the last three years, and this is I think the first opportunity for him to actually use those acquired skills for the band. And to do what I think is his best performance yet as an actor is pretty awesome that we actually got that, as opposed to a TV show."
You guys are working on a new album right now. Why why did you choose these two songs to share with fans first?
Tyson: "I think 'Sweat' and 'Close Your Eyes' offer an A to Z kaleidoscopic perspective of what this record will be. We have six or seven songs recorded for now, or at least sketched out, and I think it's interesting. We've been a band that everyone has grown up with, whether they liked it or not. Whether we were on in your friend's car when you were cruisin' back when you were 16, or whether you went to dinner with your folks and you were eating at Applebee's. You can't escape the All-American Rejects, and I think in that spirit of that evolution, I think this is a record where we want people to continue to grow with us. And a song like 'Close Your Eyes' explores maybe a boundary you didn't think we could touch, and I think we're going to continue to push that boundary with this next record."
You've said before that the visuals are important for this album, and that it was going to be a visual experience. Is this new album going to be a visual album? Are there going to be more visuals like this to go with your other songs?
Tyson: "Yeah, I think we're going to continue the story through cinematic exploration. Jamie, I think he's going to helm as much as he can of this visual experience with us, and I'm hoping that he continues to take us into a whole other trippy place. Because I think Robert could either keep going, or I think we could just follow some of the more cinematic stories of the themes in the record already."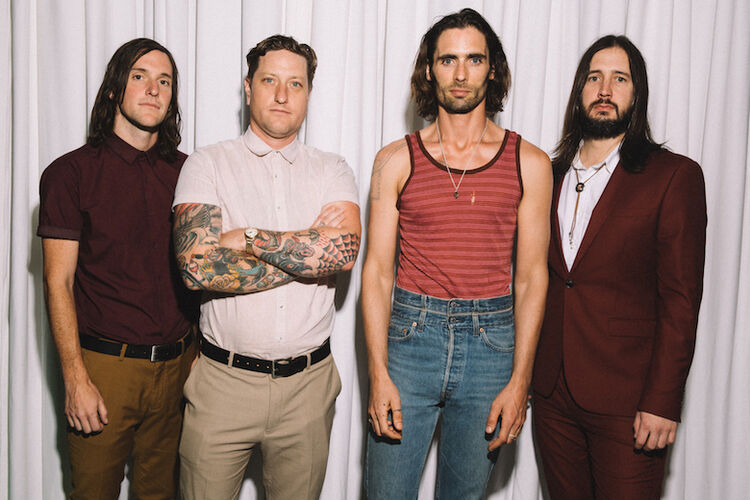 This is your first album in about five years. What's been the process for putting this together like this time around?
Mike: "Usually we pick a producer and then we hole up for months at a time in the studio until we're all going bat sh*t crazy, but this time we decided every song is a different producer. We're limiting our time to like two days, and it's just kind of go in, not know what we're going into, and adapt. There's something about that, that keeps it fresh and keeps it exciting, and keeps us motivated. It's been great so far."
"Sweat" and "Close Your Eyes" are quite different in sound. So, what can your fans expect on this upcoming album?
Mike: "Every song we've hit so far has its own personality, for sure."
Tyson: "Expect a record that matters from us. Whether it was 'Move Along' that captivated you back in the day, I think this is going to be a record that the variety of it will be what captivates you. I think as we've all grown up, if we have done this together, I think our palettes have changed, and I think we need to definitely drive that home. Because I think there are a lot of bands out there that just want to take you down the same path because you can hear them selling you their bullsh*t. And we're just not here to do that."
RELATED VIDEO: Watch The All-American Rejects Cook A Tiny Pancake